A backyard wedding can be an intimate and cost-effective alternative to a traditional venue. Find out how much it costs to throw a backyard wedding and learn how to plan a memorable event within your budget.
While planning your special day, explore how to create a modern backyard to set the perfect scene for your wedding.
In addition, learn how to set up a backyard party to ensure a smooth reception for your guests. Embrace the backyard wedding trend and create an unforgettable experience for you and your loved ones.
Takeaways
Plan ahead to ensure a successful backyard wedding
Determine your budget and guest list early on
Take advantage of the natural beauty of your backyard
Renting equipment can help cut down costs
Don't forget about lighting and decor
Make sure you have a solid backup plan in case of bad weather
Your Guest Count
The number of guests you invite depends on the size of your venue. If it's a small chapel, then you'll want to keep the guest list small so that everyone has enough space. 
But if your wedding is taking place in a large ballroom with plenty of seating, it may make sense for you to invite more people.
In either case, don't forget about safety! It's important that there be enough exits for everyone in case there's an emergency situation (and if there aren't evacuation routes detailed in your contract with the venue).
Looking to set up a backyard greenhouse for your wedding? Our guide on how much a backyard greenhouse costs can help you plan and budget for this unique wedding venue option
Your Wedding Location
You should also consider the venue's location. A lot of venues are far from your home, so if you choose one of them, it will be inconvenient for your guests to travel there. 
It's better to choose a venue that is close enough to your home so that people don't have to spend too much money on transportation (or make them late).
If you have many friends who can afford attending an expensive wedding, then location doesn't matter as much as when throwing a backyard party because each person will be driving there in their own vehicle.
However, if you are having difficulty finding out where everyone's going and how much they're spending on travel expenses (especially since some people aren't sure whether they'll even come), it might be wise to consider how close the venue is from where most of your invited guests live rather than its price tag or reputation alone!
Your Wedding Date
Don't choose a date that is too close to another event
If you're having a backyard wedding, you may still have lots of other events happening at your house in the near future. 
For example, if you're planning on throwing a big party for your daughter's graduation from high school and then getting married the week after, it could be nice for both families if they were able to celebrate together. 
Or if there's an important family birthday coming up, you don't want people who RSVP'd "yes" suddenly backing out because they were invited somewhere else on that same day.
Do not choose a date that is too far away from another event
While it might seem like all those extra months or years will give ample time for planning, actually trying to coordinate everything can be much harder than anticipated you'll need to plan around so many other things: vacations, work schedules and birthdays (on both sides). 
If someone can't make it because their boss asked them for an extra shift every weekend between now and December 2021? That's no one's fault but yours!
Don't let a small backyard space deter you from having a beautiful wedding. Our guide on how to make your backyard look bigger and more inviting can help you transform your space into the perfect wedding venue.
Your Budget
It's important to set a budget before you begin planning your wedding. No matter what size or style of event you're having, it's necessary to know how much money you have available to spend on the festivities before starting to make decisions about what kind of party you'll throw.
 If you aren't sure where your funds are going yet, here are some tips for creating a wedding budget:
Figure out how much money is coming in and going out. The best way to figure out how much money you have for the wedding is by keeping track of your income and expenses over time (you should be tracking these anyway). 
Ideally, this exercise would take place over several months so that there are enough transactions recorded for an accurate estimate of projected income from all sources.
Create Excel spreadsheets or use online tools like Mint or YNAB (You Need A Budget) to help keep track of the numbers as they come in and go out during this period. 
These programs can also provide suggestions on how much savings or debt payments may be appropriate based on your current spending habits; many even offer built-in features like automatic reminders when bills need paying! This can make it easier for newlyweds who aren't used
Your Caterer
Catering can be a big expense, but it's not impossible to save money on food. If you're having a buffet dinner (which is likely, since there's no kitchen at your venue), your guests don't need to eat as much, so you can get away with buying less. 
A potluck dinner also saves money because everyone brings their own dish and eats less of it—they'll only have one plate instead of two or three!
Lighting is an essential element for creating a romantic atmosphere for a backyard wedding. Check out our guide on how to hang lights in a backyard for tips and tricks on making your wedding a glowing success.
The Layout Of The Venue
The layout of the venue is a huge factor in throwing a backyard wedding. A large outdoor area means that guests can move around freely, while a smaller space will make them feel claustrophobic. 
Keep in mind that you may need to hire an additional vendor or two to make sure your event is properly set up—and if you do this, factor these costs into your budget!
Also consider how close the chosen venue is to other entertainment options. If it's next door to an ice-cream shop, then people will want to take breaks from dancing and bask in the glow of their delicious treats. 
This can either be great for bringing more foot traffic into your event or terrible for making it hard for anyone else who wants some quiet time away from the hustle and bustle of partying guests around them all night long!
Finally, don't forget about parking spaces before booking any location—the last thing anybody wants at their wedding is finding themselves stuck without somewhere safe enough where they could leave their car overnight after having too many drinks during dinner service or maybe even earlier during cocktails hour!
Is The Event Insured?
As a wedding planner, I'm often asked about insurance for events. Insurance is important for any large event! What does it cover? How much does it cost?
What is the cost of insurance?
Many people do not realize that their homeowner's or renter's insurance covers them for weddings and parties.
 If you're having a backyard wedding or party with friends, limit your guest list to 50 guests or less and check with your insurance company before proceeding with the event. If they say no, then you might want to consider hiring an event planner who can help guide you through this process (and get some peace of mind).
How do I find a good insurance company?
When finding an insurance company look at reviews online, talk with friends who have used them before and ask if they are insured by the same company as well as whether there have been any problems in the past regarding their coverage/price levels etc., 
You should also consider contacting local business owners too since they may have had good experiences working with certain agencies so make sure those get listed too!
Why rent a venue when you have the perfect wedding location right in your own backyard? Our guide on how to plan a wedding in your backyard provides all the essential tips and tricks you need to make your backyard wedding dreams a reality.
Does It Have A Restroom?
One of the most important things to consider when planning your wedding is how you'll accommodate all of your guests. 
You want everyone to be comfortable and happy, but many guests are going to need the restroom at least once during the ceremony, so it's good to have a plan in place. 
If you have a lot of guests who aren't staying at your house, or if there's a venue involved that doesn't have restrooms, this can complicate things even more!
If you don't already have an adequate number of restrooms available for your wedding day needs (and many people don't), then I highly recommend renting portable toilets. 
Portable toilets can range from economical options like porta potties and chemical toilets all the way up through luxury options like mobile showers and toilets with sinks inside them!
Do You Need To Rent Other Items?
For the most part, you'll probably be able to get away with not renting too many additional items. But some couples choose one or two things that they just can't live without—like a photo booth or tables and chairs.
If you're considering hiring a photo booth, know that they can be pricey: expect to pay around $1,000 for eight hours of use for up to 20 people (and more if your guest list is higher). 
If you want an open-air dance floor instead of one inside your house or tent area, keep in mind that these can also cost thousands of dollars depending on their size and material. For example, renting a 10′ x 12′ tent might cost $1,200 while renting a 20'x20′ inflatable dance floor could cost $2,000.
Must-Have Items for a Backyard Wedding
Items
Tents and/or canopies
Tables and chairs
Lighting and decor
Catering equipment (if self-catering)
Portable restrooms
Dance floor
Sound system
Insect repellent
First aid kit
What Amenities Does It Have? (A/C, Parking, Pool, Etc.)?
So where is your wedding going to be held? If the venue has an indoor area, it's likely that you'll need to rent a tent for shade. 
But if there's no shade at all, and if you don't want your guests getting sunburned while they enjoy their meals, then you may need to hire a company that specializes in renting tents and canopies. 
You may also want to consider additional amenities like A/C units or fans depending on how hot it is outside on the day of your wedding (and also whether or not there is air conditioning inside). 
If there aren't any bathrooms near where your ceremony will take place, make sure someone from the venue lets everyone know about this beforehand so they can plan accordingly. Also make sure their parking situation is approved by local authorities! It never hurts to ask!
Planning a wedding on a budget? You don't have to sacrifice style for affordability. Our guide on how to make your backyard look nice for cheap provides creative and budget-friendly solutions for transforming your backyard into the perfect wedding venue.
Diy Wedding Planning Means You Can Save Money!
If you're planning a backyard wedding, there are plenty of ways to save money on your own. One way is by choosing an already existing venue rather than renting out space for the night. 
If you have the option of having it at your home or someone else's house, that can also help save some money. 
Another idea is hiring a friend who has experience doing hair and makeup so they can do it all for free!
Another great idea is making your own invitations. This will cost less than buying them from a store and will also give you more freedom over what they look like and how many people they invite! 
You could even make another DIY project out of them so guests know what to expect when they arrive at the party (e.g., "Make sure to bring food with us!").
Pros and Cons of a Backyard Wedding
| Pros | Cons |
| --- | --- |
| More affordable | Limited space for guests |
| Personalized atmosphere | Weather-dependent |
| Flexibility in planning | Requires more preparation and cleanup |
| Provides natural beauty as a backdrop | Noise and neighborhood restrictions |
| Family and friends can help with setup | Limited facilities for guests |
Conclusion
The great thing about throwing a backyard wedding is that the DIY route can save you money. You don't need to rent any extra items and you don't have to pay for a venue rental fee. 
The biggest expense will be your guest count and catering needs, but if you keep those things in check then everything else should fall into place!
Further Reading
Here are some additional articles that may be useful for planning a backyard wedding:
How Much is a Backyard Greenhouse? Find Out: This article provides information on the cost of backyard greenhouses, which could be useful for creating an outdoor space for your wedding.
How Do I Make My Backyard More Small? Easy Way: This article provides tips for making the most of a small backyard, which could be useful if you are hosting a wedding in a smaller space.
How Much Do Rocks Cost for Backyard? Explained: This article provides information on the cost of using rocks for landscaping, which could be useful for creating a unique and natural backdrop for your wedding.
How Do You Hang Lights in a Backyard Globe?: This article provides tips for hanging string lights in a backyard setting, which could be useful for creating a romantic and festive atmosphere for your wedding.
How Much Does it Cost to Fully Landscape a Backyard?: This article provides information on the cost of fully landscaping a backyard, which could be useful for creating a beautiful and cohesive outdoor space for your wedding.
Cost of Backyard Wedding: Everything You Need to Know: This article provides a comprehensive breakdown of the costs associated with hosting a backyard wedding, including tips for cost savings.
The Ultimate Guide to Planning a Backyard Wedding: This article provides a detailed guide for planning a backyard wedding, including tips for decor, lighting, and entertainment.
FAQs
How much does it cost to throw a backyard wedding?
The cost of throwing a backyard wedding can vary widely depending on factors such as the number of guests, the level of decor and catering, and any additional rentals or services needed.
According to various estimates, the average cost of a backyard wedding in the US ranges from around $2,000 to $10,000. However, costs can easily exceed this range depending on the scale and complexity of the wedding.
What are some benefits of hosting a backyard wedding?
Hosting a backyard wedding can offer several advantages over a traditional wedding venue. First and foremost, it provides a more intimate and personal setting, which can create a more meaningful and memorable experience for the couple and guests.
Additionally, backyard weddings can often be more budget-friendly, as they eliminate the need for costly venue rentals and can allow for more DIY decor and catering options.
What are some key considerations when planning a backyard wedding?
When planning a backyard wedding, it is important to consider factors such as weather, parking, noise restrictions, and restroom facilities. Additionally, it may be necessary to obtain permits or insurance coverage depending on local regulations and the scale of the event.
It is also important to carefully consider decor and layout options in order to create a cohesive and visually appealing atmosphere.
What are some creative decor ideas for a backyard wedding?
There are countless creative decor ideas that can help transform a backyard into a stunning wedding venue. Some popular options include string lights or lanterns, floral arches or centerpieces, rustic furniture or signage, and vintage or bohemian-inspired decor elements. It is also important to consider the natural features of the backyard and how they can be incorporated into the decor, such as trees, gardens, or bodies of water.
How can I make sure my backyard wedding is comfortable for guests?
To ensure that guests are comfortable during a backyard wedding, it is important to provide adequate seating, shade, and shelter from the elements.
Consider renting or purchasing tents, umbrellas, or other protective structures to ensure that guests are protected from sun, rain, or wind. Additionally, providing comfortable seating options such as cushions or blankets can help guests relax and enjoy the festivities.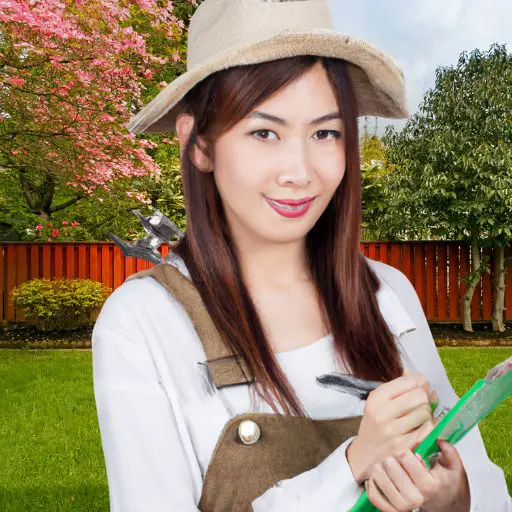 For 15 years, Hellen James has worked in the gardening industry as an expert and landscape designer. During her career, she has worked for a variety of businesses that specialize in landscaping and gardening from small firms to large corporations.