A level lawn is more than an aesthetic issue. Dips and bumps in your lawn can create opportunities for standing water, and those pools give way to problems with mosquitoes and unwanted pests, especially in the warmer months. 
Uneven terrain can present problems when it comes to landscaping and gardening, and they also present tripping hazards, which are problematic for everyone from active toddlers to unsteady seniors.
Leveling your lawn is a great way to improve your yard and can be done without hiring expensive professionals. With the right tools and know-how, a level yard can be yours in no time. 
Read on for our expert tips on lawn leveling to turn your yard into a safer and more attractive space for your family to enjoy and one your neighbors will admire.
Takeaways
1. Leveling your lawn can improve its appearance and make it safer by eliminating bumps and dips.
2. Uneven lawns can lead to problems like standing water and mosquito infestations.
3. Lawn leveling can be done without hiring professionals, saving you money.
4. Use a lawn leveling rake, wheelbarrow, compost, sand, topsoil, and a push broom for the task.
5. Start by dethatching the affected areas to get a clear picture of uneven spots.
6. Fill the depressions with a mixture of soil, compost, and sand, and distribute it evenly using a lawn leveling rake.
7. Overseed the leveled areas with new grass seed and ensure proper watering and fertilization.
8. Consider soil type and adjust the topdressing accordingly, using compost or sand as needed.
9. Prevent an uneven lawn by maintaining proper mowing height, treating fungus or disease promptly, dethatching and aerating regularly, overseeding bare patches, and winterizing irrigation systems.
The Benefits of a Level Lawn
There are many important reasons to level your lawn and many benefits you will enjoy after tackling this worthwhile project.
Level lawns are:
Easier for homeowners to maintain when it comes to mowing, weeding, etc.
Less likely to have problems with standing water in soil and mosquitoes
Less likely to have damaged patches of grass due to standing water and poor drainage
Even the most pristine and well-manicured lawns have the potential to develop bumps over time. Ground settling, using heavy lawn equipment, fungus in soil, and irrigation systems are some of the reasons lawns can become bumpy and uneven. Fortunately, there are remedies to address the bumps quickly when they appear.
How to Level Your Lawn With Lawn Leveling Rakes (and Other Tools)
You probably have a garden rake already hanging in your garage or tool shed, and you may be tempted to think you can just start with that. However, lawn leveling requires a special kind of rake.
A lawn leveling rake has a wider shape and a grid-like structure compared to a standard yard rake. You can use this with other tools you have on hand to rid your bumpy lawn of unwanted dips and bumps. You will need the lawn leveling rake, a wheelbarrow, compost, sand, topsoil, and a push broom to get started.
Step 1: Dethatching
Before you use your lawn leveling rake on an uneven lawn, you must start by dethatching the affected areas. A thatch is a layer of dead grass and small clods of other organic materials that have not yet decomposed: it's the spongy layer that will accumulate over time as your grass grows. 
Once the thatch is removed, you have a clearer picture of the uneven spots in your lawn. You can dethatch with regular plastic leaf rakes, or you may find using a rigid bow rake easier for this task.
Step 2: Mix Your Filler
The bumps and dips in your yard should be filled with a mixture of equal parts soil, compost, and sand. This is where you will use your wheelbarrow to transport the mixture easily throughout your yard. 
Step 3: Fill and Rake
Once you fill the depressions with the soil mixture, you will use the lawn leveling rake in a back-and-forth motion to distribute the mixture evenly. After you rake, you can also go over the mixture with a push broom.
Step 4: Get Grass Growing
Once you have gone over the spaces with a lawn leveling rake, you should overseed those areas with new grass seed where needed and be sure to water and fertilize these spaces thoroughly.
Leveling Your Lawn: Extra Considerations
Lawn leveling needs will vary based on the extent of the bumps, depressions, and low spots and your soil type. The topdressing you spread with your lawn leveling rake may need to be modified for certain conditions.
Soil with a high clay content (sometimes described as soil that feels sticky) may require only a layer of compost.
Soil that is fine in texture and feels soft or damp may not need sand in the top dressing. Use topsoil and compost only.
Tips for Preventing an Uneven Lawn
Once you get your lawn and grass in great shape by smoothing out the unwanted bumps, dips, and depressions with a lawn leveling rake, you can take proactive steps to prevent a bumpy lawn from reoccurring.
Make sure you are mowing your grass at the proper height, and keep your lawn mower blades sharpened as needed.
When you spot fungus, disease, or pets, treat the problems quickly to ensure they do not damage the lawn and potentially cause bumps and low spots to form again.
If needed, dethatch and aerate your lawn regularly, preventing bumps from forming.
When bare patches appear, correct them by overseeding.
If you have an irrigation system, winterize it for the colder months.
Can't I Just Use a Heavy Roller to Level My Lawn?
Some homeowners may think the process we have outlined to level an uneven lawn could all be avoided by simply using a heavy roller. While it seems like an easy solution, this should be avoided to preserve your grass. 
A heavy roller can damage healthy grass and leave you in worse shape overall. The time and effort involved in leveling your lawn with the proper tools—including a lawn level rake—and materials will be worth it in the long run.
When Is the Best Time to Level My Lawn?
Even though you might assume this project is best left to the winter months to prepare for the spring and summer seasons when you do most of your lawn care, the opposite is actually true. 
Lawns should be leveled while the grass is actively growing, which means sometime between March and October, depending on your climate. This job is best planned for dry days; using a lawn leveling rake on a rain-soaked yard can make for a muddy mess, so make your plans around the forecast.
Additional resources for lawn leveling can be found at your local garden center, and local experts can advise you on everything from the right application material for your native soil to general tips for lawn maintenance based on your type of grass.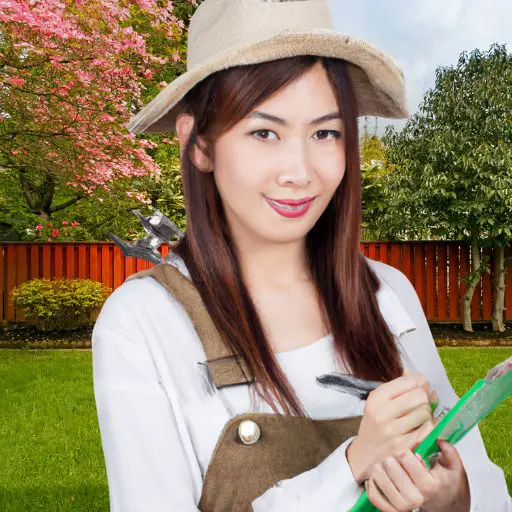 For 15 years, Hellen James has worked in the gardening industry as an expert and landscape designer. During her career, she has worked for a variety of businesses that specialize in landscaping and gardening from small firms to large corporations.